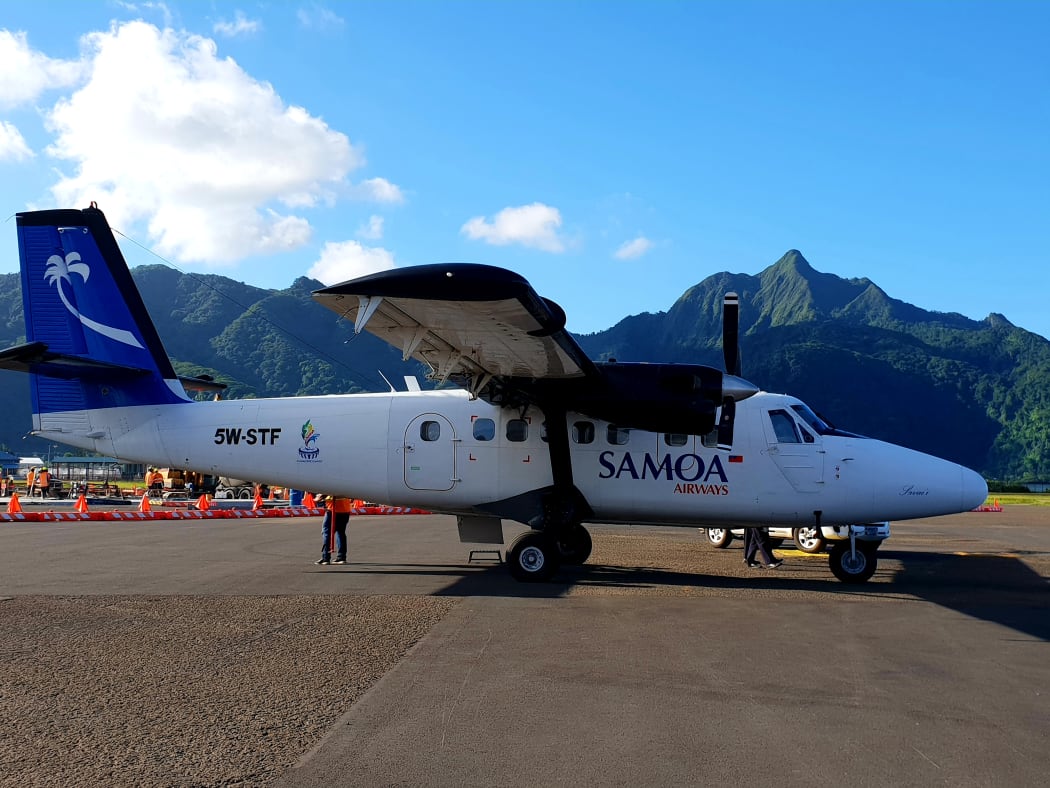 Lack of fuel hindering aviation, police want ex-Samoa PM charged, and five arrest in PNG over violence
Aircraft fuel crisis in Samoa
Samoa is experiencing a shortage of aircraft fuel due to the delay of oil supply into the country.
The next supply is scheduled to arrive on September 26.
An email sent out by one of the local freight companies to its customers says it was advised by Samoa Airways that due to a shortage of aircraft fuel in Samoa, there will be no outgoing or incoming freight to Apia until September 26, when they will review and advise the company if the freight can be sent again.
"Due to fuel shortage, the aircraft has to carry more fuel to return to New Zealand and this means that weight is taken up which was reserved for freight."
The local freight company says it can continue to pick up and accept mail to await any flight that can take the freight next week.
A staff member at Petroleum Product Supplies, PPS, the sole petroleum fuel distributor in Samoa, told Radio Polynesia the oil tanker will arrive this week, but there are protocols in place for any new oil arriving with the company, therefore the PPS will distribute its fuel supply on October 4.
Samoa police say ex-PM should be charged
Samoa Police have recommended former Prime Minister Tuilaepa Sailele Malielegaoi be charged following an investigation into a defamation complaint.
The complaint was made by the Minister of Works, Transport and Infrastructure, Olo Fiti Va'ai.
Samoa Observer reports Police Commissioner Auapa'au Logoitino Filipo has confirmed the investigation was complete and the report has been handed to the Attorney General's office for review.
Auapa'au confirmed there are recommendations to press charges.
There has been no official word from Attorney General Su'a Hellene Wallwork on the investigation, which started early August.
This is the third defamation case lodged by the ruling FAST party which included a matter against an Australia-based broadcaster, which was dismissed by the District Court, and a more recent one against an unnamed female.
PNG police arrest five in connection with CEO killing
Papua New Guinea police have apprehended five suspects after recent violence in Goroka, in Eastern Highlands Province.
ABC's PNG correspondent Belinda Kora reports the police believe the five were involved in the killing of the CEO of the PNG Port Corporation.
Investigations will continue.
But the head of police assured people that normalcy should now resume.
Marine expansion plan derided
A proposal to expand the Pacific Remote Islands protected marine area has been labelled 'conceptually challenged and factually shallow' by the Western Pacific Fisheries Council.
The council's scientific and statistical committee said the Pacific Remote Islands Coalition, which developed the proposal, "lacked engagement with the territories, specifically American Samoa".
The expansion, which would have seen the protected area cover about 755,000 square miles, was requested by the Coalition in May and later supported by Hawai'is Governor David Ige.
In its request, the Coalition said the expansion would provide protection to 98 additional seamounts, which are ecological hotspots for biodiversity.
The Council will inform the White House and relevant federal agencies about the lack of scientific justification for the previous and proposed expansion of marine national monuments in the Pacific that prohibit US tuna fisheries.
The Council will also reiterate its June 2022 recommendation to request a comprehensive evaluation of the unintended consequences, including social and economic impacts, be conducted and evaluated through a transparent and public process if further closures are considered.
Counterfeit goods seized
In Vanuatu, imported counterfeit products worth more than $5 million Vatu – about $US41,000 – have been destroyed.
The destruction came about as a result of a joint operation between the Vanuatu Intellectual Property Office and the Department of Customs and Inland Revenue.
Property office copyrights officer Lorenzies Lingtamat said the two departments signed a memorandum of understanding in 2018 to investigate the importing of counterfeit goods.
He said under this agreement the Customs department seizes all goods that are suspected to be fake.
Among the burned supplies were hats, shoes, sandals and T-shirts bearing the Nike and Billabong brands.
There are only two businesses in Vanuatu that are permitted to import these two brands.
New fund to get more Pasifika into homes in NZ
The New Zealand government has launched a new housing fund which will help more Pacific aiga achieve the dream of home ownership.
Called the Pacific Building Affordable Homes, the fund aims to help organisations, private developers, Māori/iwi and NGOs build affordable housing for Pacific families.
The Minister for Pacific Peoples, Aupito William Sio, said it was also about building homes suitable for multi-generational Pasifika families.
"I'm making sure that as the whole of government are building houses for those in the social sector that my goal here is specifically to ensure that we are making positive pathways, creating positive pathways for Pacific people to own their own home," he said.
Research shows plan is required for retired Pasifika
A New Zealand report reveals better housing solutions and financial education are key to improving the wellbeing of Pacific people in retirement.
The research was commissioned by Te Ara Ahunga Ora Retirement Commission and undertaken by the Ministry of Pacific Peoples.
Pacific matua, or elders, from 18 households and nine Pacific ethnic backgrounds opened their doors to researchers for the study to share their experiences of retirement in New Zealand.
An online survey was also conducted by Te Ara Ahunga Ora with Pacific people aged 45-64, to understand their future housing preferences.
Pacific matua saw retirement as a time of continued service to family, church, and community.
Runaway Dump Truck Crashes Into Vineyard Haven Harbor
Alex Jones testifies in Sandy Hook damages trial
Roger Federer prepares for his last ever competitive match - what he did for tennis is unrivalled | Jacquie Beltrao | UK News
Helen Skelton says Strictly was chance for family to 'see me smiling' after split | Celebrity News | Showbiz & TV
2022 AFL Grand Final parade returns to Melbourne