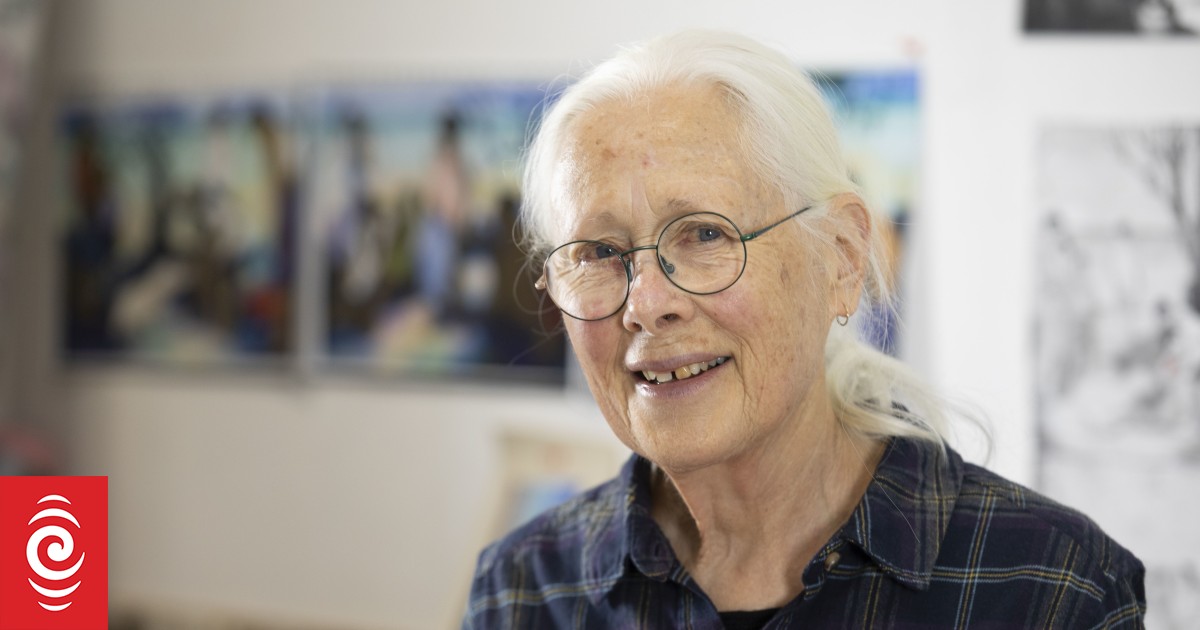 Sixteen artists from a range of backgrounds have been recognised in the country's premier Māori art awards.
Ngā Taonga a Te Waka Toi recognises tohunga across all forms of visual and performing arts and have been awarded since 1986.
Veteran visual artist Dame Robin White received the supreme award.
Despite a career spanning over 50 years, including 17 years spent living and working in Kiribati, she said the award came as a total surprise.
"I feel extremely humbled by this, it was extremely unexpected. I just hope I can live up to the expectations that I feel come with an award like this."
Among the other winners was experienced weaver Christina Hurihia Wirihana.
She joins her mother, Matekino Lawless, who recieved an award in 2015 as a winner at the awards.
Wirihana said the inspiration from her mother and the whenua she called home was imbued in the fibres she used to create her work.
"I've used my maunga Matawhaura and my roto, Te Rotoiti a Ihenga every day, so those are the natural elements that inspire me," she said.
Musician Rob Ruha, weaver Veranoa Hetet, and kapa haka stalwart Te Aroha Paenga were also among the winners.
Other winners included painters, playwrights, orators, navigators, musicians, and kapa haka performers.
Several of those recognised have played important roles in reviving several skills that may otherwise have been lost, including ocean-going navigation and the whatu kakahu method of garment weaving.
Ngā Toi Whakaihuwaka 2022 – winners
Te Tohu Aroha mō Te Arikinui Dame Te Atairangikaahu exemplary / supreme award Dame Robin White – (Ngāti Awa)
Ngā Tohu a Tā Kingi Ihaka | Sir Kingi Ihaka Award recognising lifetime contribution Muriwwai Ihakara – (Ngāti Porou, Te Arawa) posthumously awarded; Christina (Tina) Hurihia Wirihana – (Ngāti Pikiao, Ngāti Maniapoto, Ngāti Raukawa, Ngāti Whawhakia, Tainui, Te Arawa, Ngāti Rangiunora) 
Ngā Tohu Hautūtanga Auaha Toi – making a difference award: Veranoa Hetet QSM - (Te Atiawa, Ngāti Tuwharetoa and Ngāti Maniapoto); Ross Hemera – (Ngāi Tahu); Gabrielle Belz – (Ngāpuhi & Te Atiawa)
Te Tohu Iho Pūmanawa Award – recognising the contribution of a Māori artist with the lived experience of disability Anaru Ruka – (Ngāpuhi, Ngāti Raukawa, Ngāti Tuwharetoa)
Ngā Manu Pīrere Award – Recognising emerging Māori artists Ngamako Rota – (Waikato, Ngaati Mahuta); Ming Ranginui – (Te Ati Haunui-a-Pāpārangi); p Walters – (Ngāti Kuri)
Te Tohu o Te Papa Tongarewa Rongomaraeroa – Recognises the recipient's outstanding contribution to Ngā Toi Māori: Hoturoa Barclay-Kerr – (Tainui); Jack Thatcher – (Ngāi Te Rangi, Ngāti Ranginui, Ngāti Porou, Te Aitanga-a-Hauiti); Stanley Conrad – (Te Aupouri)
Te Tohu aroha mō Ngoi Kumeroa Pewhairangi – Recognises the recipient's outstanding work strengthening te Reo Rangatira: Rob Ruha – (Te Whānau-ā-Apanui, Ngāti Porou, Ngāti Rangiteaorere, Tūhourangi)
Te Tohu a Te Matatini – contribution to kapa haka: Te Aroha Paenga – (Ngāti Porou); Te Taepa Kamenta – (Ngāti Pikiao, Ngāti Te Rangiunuora, Taranaki, Te Whakatōhea).
Michaela Robertson set for Wellington Phoenix debut after recovering from concussion
Ukraine capital in survival mode following latest Russian missile barrage: Residents without water, power
World Cup draws record viewership to Telemundo and Peacock
Police watchdog investigating fatal Yukon RCMP shooting in Whitehorse
CR7 makes history in Portugal victory, false start for Uruguay, emotional winner as Swiss down Cameroon